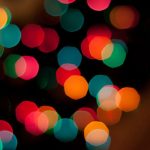 The festive season is upon us, and as we near the end of December, the thought of resolutions begin to dance in our heads. We take stock of the past year, and we dream into the future about what could be. Collectively, we use January as a time to wipe the slate clean and to start fresh.
While creating your own New Year's resolutions may seem tempting, you might be interested to know that only 8% of people who make New Year's resolutions end up sticking to them.[1] Given this statistic, I'd like to offer you an alternative solution – one that inspires positive change in your life and is more easily attained.
This year, instead of writing out a list of resolutions, I'd like you to identify a simple word or a phrase that inspires you and lights you up. You'll know you've found the right one if it energizes you, opens your heart and stirs something deep inside of you that may have been asleep for a very long time.
In 2015, I felt like I had no time for what was important to me. Despite getting engaged and married, I was also in school, running the business full-time, and had moved to a new home. I was in a rat race and constantly on the go. While there were so many wonderful things taking place, I felt like I wasn't present to joy. I was simply "doing my life" and meeting my obligations, and as a result, my spirit felt bruised.
I did some contemplating, and discovered that what I needed more of in my life, was "JOY." So, I wrote, it out on a piece of paper, and then I framed it and displayed it in my office. I looked at it every day. Each time I glanced at it, I was reminded of its importance in my life. I contemplated whether joy had been present in my life, and if it hadn't, I let my intuition guide me to what I needed to do or let go of in order for it to be fully alive for me again. Focusing on joy in 2015 helped me to feel more whole and complete. It was the missing link that helped me grow into the person I aspired to be.
In 2016 my phrase was "honour the sacred." It came to me when I was shovelling the snow (I love snow – I know, I'm one of the weird ones). In the peace and quiet of the snowfall, I realized that I hadn't allowed myself time to contemplate the magic of life. Honouring what was sacred, helped me to feel more connected and contributed to me feeling more centred and fulfilled.
Finding a word or a phrase that inspires me, rather than creating resolutions, has become a beautiful ritual that I delight in at the closing out of each year. This morning at the gym, my 2017 word came to me. It's timely and perfect and I can already sense the difference it will make in my life. This year my word is "LIGHT." As the world faces so many challenges and as humanity walks forward into uncertain times, I notice how easy it is for me to take on the heaviness that I feel all around me (from the news, what is being shared on social media, and in conversations I have and overhear). The word "light" reminds me to remain light-hearted (no matter what), to bring light to every situation (even the challenging ones), and to tread lightly upon the Earth (reducing my environmental impact where possible). It gives me a solid place to stand in a world where so many changes are taking place. I can sense deep inside, that focusing on "light" will help keep me centred and level as I navigate all of life's twists and turns.
What could you use more of in the coming year? Here are some guidelines to help you create your New Year's intension.
7 Steps to creating your New Year's resolution intension:
Find a quiet space where you will not be interrupted
Sit in your favourite chair, or spot on the couch (be comfortable)
Close your eyes and begin to focus on your breath
Feel into your body; notice your mental/emotional state
Listen to your inner guidance – what does your current mental/emotional state crave or need
Identify a world or state of being that will nourish the most neglected part of your spirit
Open your eyes, write your word down and place it somewhere you will see it often
What are you creating for yourself this New Year? I'd love to hear what your world or phrase is! Please leave a comment in the section below.
 Here's to your best year yet!