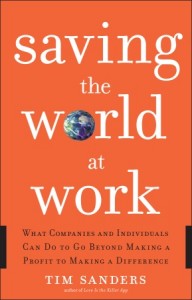 It's a little known fact that I (Michelle) love to read, and it's a well known fact that I adore sharing neat and interesting information with others. I feel like the Cliff Claven of wellness and business information. When I first tucked-in to the book Saving the World at Work I felt like I had come home. Tim Sanders shares with readers why companies who take great care of their employees, the communities they are situated in, and the environment, will prosper.
I have always felt that making a difference was the most powerful way to make a profit, and this book gives examples of companies who are wildly successful and who are on the leading edge of the Responsibility Revolution.
In a nutshell, Saving the World at Work is about waking companies up to Corporate Social Responsibility. "Today 65 percent of Americans are willing to swtich to a brand associated with a good cause if price and quality are relatively equal. And 66 percent particpate in at least one social cause-generated boycott each year (and with each passing year, the percentage grows)."
My wish for our clients is that every one of you reads this book. The marketplace and the workplace are changing and more than ever people's values are guiding their purchasing and employement decisions. We love being on the cutting edge, and based on the companies we work with, we see that you strive for this too. Go out and grab a copy of this book – and remember to let us know what you think about it.