I told you that I can't help but share great information with you that may not be workplace related (but will be wellness related). Please allow me this one indulgence as I share news about an amazing cookbook that is about to be launched.
The Naked Foods Cookbook (which can be preordered now) by Eat Naked author Margaret Floyd, and her husband Chef James (personal chef to the Stars…) is an incredible cookbook with 160 whole-foods, gluten-free, healthy recipes. I have tried some of the recipes Margaret and James featured in this cookbook and I have loved every one of them.
If you're looking to make healthy dietary changes but have been at a loss for what recipes to try, look no further. This cookbook will soon become your family's favourite!
We and friends from working on bringing their 14 Day Sugar Control Program into the workplace.
SPECIAL OFFER: 14 DAYSUGAR CONTROL PROGRAM
Pre-order your copy of The Naked Foods Cookbook and get lifetime access to the new online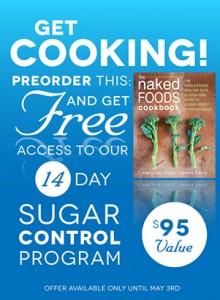 version of our 14-Day Sugar Control Detox Program.
This program includes:
a full set of how-to videos 
detailed outline of the 14-Day Sugar Control Detox
sugar backgrounder
meal plans based 100% on recipes from the Naked Foods Cookbook
grocery lists
tips and tricks to make the most out of this detox
and so much more…!
100% of clients who've followed this program to a T have lost weight, improved their energy levels, and drastically reduced their sugar cravings.
This program is valued at $95, but with proof of purchase of your Naked Foods Cookbook preorder by May 3rd, 2012, it's yours FREE!
Email your proof of purchase to books@eatnakednow.com (just forward the receipt from any of the online retailers below), and they'll follow up with you within one business day with your personal access to this online program.
For more info on , please click the link.